Happy Saturday everyone! Tomorrow is Easter, I can't believe it's here already. It's come so fast. And although I haven't figured this whole what church I'm going to issue, I do know for sure that I'm attending the 6 a.m. service tomorrow at my old church. I LOVE that service. It's an outside service where the old pastor comes back and gives the full on gospel message. I love Dr. Lawson. It's amazing to see the sun coming up and to hear everyone singing in unison with no music. Oh I can't wait! I will have to get up at 4:30, but it's totally worth it.
A few nights ago, I got approached for a job offer. Nothing too major, but someone said they would pay me if I would tutor their son in Spanish. He is in high school Spanish and is really struggling. Meh, I figured high school Spanish can't be anything compared to my 2nd year of college Spanish. So, I said sure...I could make a few hours a week for him to help. I insisted that she doesn't have to pay me, but she said for me not to argue about it. Okay, if you say so! I felt so accomplished this week, did a lot of Tres Dias stuff, I got some doctor's appointments scheduled, registered for fall classes, and told something to someone that I had been needing to say for a long time, it was one of my resolutions for this year. *Grin* One down, two to go. Everything was just stuff I had been putting off. I feel fantastic about accomplishing what I did. Oh yeah, I also met with a client about house sitting for them this week and got another house sitting job for July. Hooray!
Hey, since tomorrow is Easter, let me remind you that Easter is not about chocolate bunnies and dyed eggs. It's also not about the Easter Bunny. Easter is about celebrating the resurrection of Jesus Christ. Don't forget about that tomorrow! Have a blessed Easter!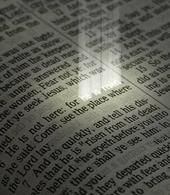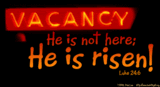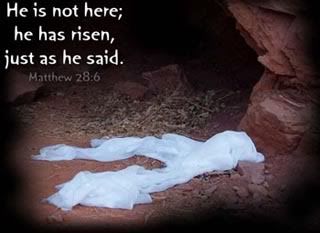 Luke 24:1-8
The Resurrection
1On the first day of the week, very early in the morning, the women took the spices they had prepared and went to the tomb. 2They found the stone rolled away from the tomb, 3but when they entered, they did not find the body of the Lord Jesus. 4While they were wondering about this, suddenly two men in clothes that gleamed like lightning stood beside them. 5In their fright the women bowed down with their faces to the ground, but the men said to them, "Why do you look for the living among the dead? 6He is not here; he has risen! Remember how he told you, while he was still with you in Galilee: 7'The Son of Man must be delivered into the hands of sinful men, be crucified and on the third day be raised again.' " 8Then they remembered his words.